The KNVB have decided to terminate Danny Blind's contract after a string of less than impressive results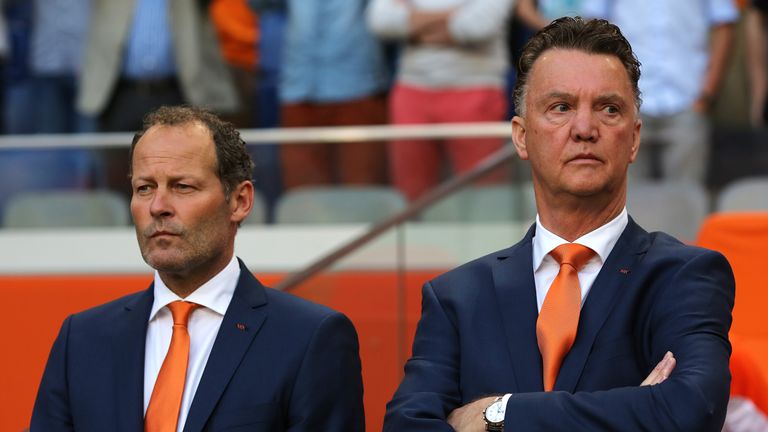 The legendary Dutch player was appointed in the hope that he'll restore the good results the Dutch national team was having when he was assistant to Louis van Gaal, but thing never worked out for Danny Blind. Following the humiliating loss at the hands of Bulgaria the KNVB have decided to part ways with him, allowing us to speculate on who will take over the most difficult job in the Netherlands right now.
1.Frank Rijkaard
It would be his second stint with the Dutch national team after he led his country to the semi-finals of the Euro 2000. Rijkaard is in his 4th year without a job and is reportedly tired of coaching, but could be persuaded to make a return to football as these are desperate times for the Netherlands. He last job was in Saudi Arabia in 2013.
2. Giovanni van Bronckhorst
Van Bronckhorst is currently at the helm of Feyenoord and is doing a pretty good job, considering that they're top of the Dutch Eredevise and 6 points ahead of Ajax. The problem here would be convincing him to leave what looks like a very promising and exciting project he is developing in Rotterdam for the less appealing managerial post with the Oranje.
3. Louis van Gaal
Yes. If there is one man who is guaranteed to get this team going again, it's Louie. He is currently enjoying his retirement in Algarve, but has refused to rule out a return to football in his last interview. It would be his third appointment as the national team gaffer and there is no doubt that he'll do everything he can to go out with a bang in what would be his final job of his glorious career.
4. Jaap Stam
The former Manchester United defender is currently managing Championship side Reading. It seems that he's installed the Dutch way of playing and his team are fighting for a promotion spot for next season's Premier League. He's been a fan favorite wherever he's played and arguably he's one of the best defenders in the history of football. His inexperience with management may be a problem, especially after seeing the failure with the Blind experiment, but the Dutch FA have made stranger appointments in the past.
5. Frank de Boer
Perhaps it's time that de Boer realizes that a Premier League club will not sign him unless he does more to prove his worth. He was released from Inter after 80 days and has since been without a job. A few attempts to sign for a Premier League club were unsuccessful and the legendary footballer has been very picky about his next job. He spent two years as assistant to Bert van Marwijk and the matches are played at the Amsterdam Arena, a place he has made his own during his playing and coaching career. Does it make him a good choice? We'll wait and see