New looks create a lot of buzz in the entertainment world. Cutting your hair, wearing something crazy, or bleaching your skin (like Sammy Sosa did) really equate to nothing more than attention getters. And since athletes and franchises are the "celebrities" of the sport's world, you can bet that sports fans across the nation will turn their attention to any new looks that come down the pike.
This last week or so saw teams making a mad dash to the drawing board in terms of new logos and color schemes. The Utah Jazz, Orlando Magic, and Golden State Warriors all unveiled new logos this week (apparently they weren't the only ones sick of the Celtics & Lakers grabbing all the headlines).
Also this week, a superstar athlete unveiled a new look. If you can guess who it is, good for you, but I'm saving this surprise for last. Hint: all you Closet Justin Bieber fans are going to swoon.
So without further ado, let's get to hatin'!
Utah Jazz Unveil New Logo
Nothing to do in the offseason after getting swept by the Lakers? Why not come up with some new colors for an already hideous logo? I know that the Purple and Light blue really brought out Carlos Boozer's eyes, but that look has been shelved for now. On a positive note, they are bringing back the musical note which gets the Salt Lake City-based team back to their musical roots (sarcasm). How about this. If your team decides to switch towns, you should be obligated to switch mascots as well. The Jazz really have no relevance to Salt Lake City, any more than Utah has to the Pac-10.
Yeah, it's been a bad week for the state of Utah. I could go off on a tangent about the Ute's switching conferences and greedily leaving everyone in the Mountain West behind at the prospect of more money, but I will leave it at this. I hope you enjoyed the couple of Fiesta Bowls you guys got to go to because there's no way that you can play a schedule like the Pac-10 offers and still expect to have a winning record.
Orlando Magic Also Change Logos
Ok, so we've ripped on the Jazz for changing colors and logos a little bit, but at least they changed their look entirely. The Magic just updated their logo for who knows what. Same colors, same style, just a little bit sleeker maybe? All I know is this, updating your logo isn't going to change the fact that you play in the NBA's Eastern Conference against some of the weakest competition around. Depending on where LeBron goes, it could get even weaker. I guess it could be a ploy to grab some revenue thanks to increased jersey and merchandise sales, but I really don't think that the logo change is noticeable enough to cause a merchandise stir.
Golden State Warriors try Mixing Things up Too
One last team felt like they couldn't be left out of the race for stupidest new logo. In what is possibly the biggest step back in updated logo history, the Golden State Warriors went from modern and flashy to what I'm going to describe as the Boy Scout Patch look. Here you can see the new look along with all the other pretty bad looks they have gone through in the past 60+ years. Old School is hot, we get it. But old school should be old school, not the every day. The appeal of seeing teams in their throwback jerseys might sell a few more tickets or some merchandise, but I can't really believe that fans will spend more money on an everyday jersey that looks old. Warriors Marketing Team – the Bay Area has seen enough!
Tom Brady Changes Logo and by Logo, I Mean Hair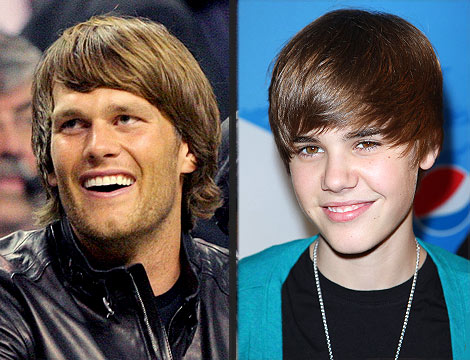 Fans of the New England Patriots and 12 year old girls around the country can now share something in common. Apparently Bieber Fever is too much for Tom Brady to fight off, as he displayed his new look during his appearance at an NBA Finals Game earlier this week. I for one will be sad to see those glorious locks hidden under a helmet all year long. Tom Brady is the "Pretty Boy" of the NFL since he first came into the league. You think Ray Lewis is going to let this slide when they are face to face at the line of scrimmage? I don't think so. If his teammates don't bully him into getting it cut before the season, I'm sure Bill Belichick can take some time away from cutting the sleeves off his hoodies to give Tom a little trim.