The Kickoff
Do Referees Make Different Calls for Different Players?
If you heard Michael Vick's rant, after suffering what he then believed to be a broken hand in the game against the New York Giants, he alluded to the fact that different players get different calls on the field. Can this be true?
[youtube]http://www.youtube.com/watch?v=XgaRKFCNE1E[/youtube]
Of course it's true and anyone who has officiated sports at any level knows that you can't call the game the same exact way for every player. The same hit that brings down Tom Brady will barely knock Big Ben off his spot. The same goes for Michael Vick who has shown that he can wiggle his way out of just about any tackle. When a player has a reputation for extending plays, long after you think they should be tackled, it gets tougher and tougher to officiate them. No ref wants to call a player down, possibly negating a game changing play, so many times they will let things go just a split second longer than they need to. Whether the particular play that injured Vick was one of these special cases is a topic for another discussion. But the fact still stands, if you are a player who needs a little extra something to be brought down, don't be surprised if a few late hits get missed by the refs. I imagine that we would be hearing the same things from Vick if the refs whistled a play dead just before he broke out of a tackle and made a huge play. Some players are just impossible to officiate properly.
The Opening Drive
Matchup of the Week
This is a game that we have had circled on our NFL Season Schedule for a long time. This is undoubtedly the best matchup of the week, pitting Rex Ryan's Jets against the team he used to be the defensive coordinator for, Baltimore Ravens.  While these teams haven't quite put up the defensive numbers that they normally do, this is still a big time matchup.  The Jets have difficulty stopping the run and Ray Rice is one of the best RB's in the game today. The Ravens aren't as strong in the pass defense as they usually are, which might be a good opportunity for Mark Sanchez to show if he is legit or not. If you are into sports betting, the current line on this one is pretty close, so get your money in. Oh, and one more thing – this one is on Sunday Night Football, so everyone gets to watch!
All Sports Talk's Game of the Week

New York

Jets
Baltimore

Ravens

Offensive Statistics

Rushing Yds/Game

Passing Yds/Game

Rushing Yds/Game

Passing Yds/Game

82 (25th)
278.7 (10th)
127.7 (8th)
261.3 (13th)

Defensive Statistics

Opp Rushing Yds/Game

Opp Passing Yds/Game

Opp Rushing Yds/Game

Opp Passing Yds/Game

136.7 (31st)
188.7 (6th)
84 (6th)
245.3 (17th)
Recipe of the Week
I hope none of you are on a diet, because this week's recipe is so goshdarn good that you won't be able to stop eating it.
Cheezy Pizza Dip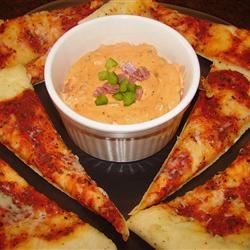 For the Fantasy Football Freaks
Now that we have a couple weeks of fantasy data, we can separate the true stars from the flashes in the pan that always pop up in the first week.
Fantasy Matchups We Love
Vincent Jackson vs. Miami Dolphins – So far this year, only a couple of teams have given up more passing yards than the Fins. It only seems right that you would play the San Diego Chargers top receiver against one of the league's worst pass defenses.
Tim Hightower vs. St. Louis Rams – The Rams have the worst rushing defense in the league and Tim Hightower seems ripe for a huge game. If you are questioning whether to put him in the lineup this week, just do it. He will be a pleasant surprise.
Eli Manning vs. Arizona Cardinals – The Cardinals are a hit or miss football team on both sides of the ball, but they tend to "miss" a lot more on defense. Eli is great at recognizing the best matchups and his receivers aren't afraid to go get the ball for him. That should equal a monster day, fantasy-wise, for Eli and most of the New York Giants.
Fantasy Matchups we Despise
 Stevie Johnson  vs. Cincinnati Bengals – The Bengals are a top-rated pass defense (believe it or not) and while the Buffalo Bills offense might be hot, it's not all because of one man. Ryan Fitzpatrick is spreading the ball around nicely, which is great for the team, but horrible for fantasy players. We aren't saying to bench Johnson, but don't count on a good day from him either.
Jahvid Best vs. Dallas Cowboys – Forget the fact that the Cowboys have the second best rush defense in the NFL, the Detroit Lions have turned into the Stafford-Megatron show (not that there's anything wrong with it). If the Lions want to win their game, they can't (and likely won't) rely on Best to do it for them.
Matt Schaub vs. Pittsburgh Steelers – Ok, so maybe their stats have been padded a bit because they played the Seattle Seahawks and the Peyton-less Indianapolis Colts, but make no mistake, this is a great pass defense and they will get at the QB. I don't predict a good day for Matt Schaub and the Houston Texans. Pick another option if you can.
Halftime Festivities
Email Question of the Week
This week's email question comes to us courtesy of Jerome from Saginaw, Michigan. He asks:
What are the advantages for quarterbacks taking snaps from the shotgun?
The first benefit for quarterbacks lining up in the shotgun is that they can survey the defense a lot better than they could if they were directly under center. They can see with a wider range of vision and diagnose just how close the corners and safeties are playing on their wide receivers. Secondly, they don't have to spend as much time dropping back. Usually, it would take 3-5 steps sometimes for a QB under center to reach the point on the field where he would have been, had he taken the snap in a shotgun formation. This means that he can get his feet set easier for a longer, more accurate throw.  Lastly, the shotgun formation allows the quarterback to throw the ball with a clearer line of sight. Instead of having to throw right in the middle of all the defensive linemen with their hands up to bat the ball down, QB's in the shotgun typically have better passing lanes.
If you want your football question featured on All Sports Talk's Pre-Game Warmup, send your questions to aaron@allsportstalk.net
This Week in Science
If you are interested in alien life, or just the world in general, some big news was announced this week. Using data from the latest Keplar mission, astronomers have calculated that approximately 1/3 of the sun-like stars studied have shown evidence of planets within a habitable zone.  In plain English – Scientists looked at 150,000 stars that have qualities similar to our Sun and found strong evidence that there might be planets orbiting these stars that could support life.
Combine that information with the fact that scientists last week were reporting that some particles were able to travel faster than the speed of light, and it seems that this whole sci-fi, living on other planets idea might actually be possible (though probably not in any of our lifetimes).
More information on the study can be found here: http://www.technologyreview.com/blog/arxiv/27198/ Isn't space wonderful??
Start of the 2nd Half
Poll of the Week
We are down to just three undefeated teams this week, the Green Bay Packers, the Buffalo Bills, and the Detroit Lions.  We want to hear from you as to which team you think has the best chance of finishing the season undefeated.
Bizarro Game of the Week
Minnesota Vikings and Kansas City Chiefs. Nobody at the start of the season knew just how bad either of these teams would be. The only solace we can get from this game is that there will be one fewer winless team in the NFL when it is all said and done. That is, unless the game ends in a tie (which thankfully Donovan McNabb now knows is a possibility). Reason #145 to get the NFL Sunday Ticket Package from DirecTV.
Video of the Week
Darren McFadden had one of the most impressive outings we've seen this season – and if you have about 3 minutes, you can see eveyr one of his carries during his week 3 contest against the New York Jets. Pretty impressive.
[youtube]http://www.youtube.com/watch?v=TYMW98RPO8k[/youtube]
The 2 Minute Drill
Fun NFL Fact
I have to give some credit to www.footballbabble.com for this next tidbit.
The 1998 Kansas City Chiefs set the league record for penalty yards in a season (1,304)
Upset Alert
Our upset game to keep an eye on this week is the matchup between the Carolina Panthers and the Chicago Bears. The Bears have been shaky of late, and Cam Newton has been better than expected. This is pretty much the perfect storm that is needed when picking an upset like this. However, will take the Newton from weeks 1 and 2, not the Newton from week 3, if the Panthers are going to have any shot at pulling the upset.
Buy or Sell
Buy or Sell  the Buffalo Bills winning the AFC East. — We are going to have to sell this one. Look. Everyone got all riled up with the Bills beat the New England Patriots last week, but at the end of the day, it took one of Tom Brady's worst performances for the Bills to come from behind and win that game. Yes, it was a big win but there's no way that if the Pats and Bills were to meet up again this week, that you could sit there with a straight face and tell me that the Bills would win. And for that reason, I don't think that they can win the AFC East.
Buy or Sell the San Francisco 49ers winning the NFC West. — This one is looking like a pretty good buy. This is typically the weakest division in the NFL and it seems especially down this year. The St. Louis Rams are 0-3, the Arizona Cardinals and Seattle Seahawks are 1-2 and haven't looked good really at any point all year. The 49ers are 2-1 and could easily be 3-0 if it wasn't for the heroics of Tony Romo two weeks ago. They will win this division by default.
Buy or Sell Cam Newton leading the Carolina Panthers to a .500 or better record. — This is probably one of the toughest buy or sells we've had on this segment. I think that Cam Newton will be able to play as well or better than any quarterback who leads their respective team to a .500 or better record. Unfortunately, I do not think that the team as a whole will be able to achieve that mark. Only in very rare cases can teams turn around and produce a winning season, after the year that the Carolina Panthers had in 2010. Cam is special, there's no doubt about that, but I don't know if they be favored to win any of their division games, playing in the tough NFC South.
If you have any topics that you'd like us to debate in Buy or Sell, please email them to me: 
aaron@allsportstalk.net
Overtime
Just some closing notes,while football season is in full swing, the MLB Playoffs are starting up as well. Make sure you head on over to see our MLB Playoff Predictions and follow each of the matchups from their dedicated series hub.
Also, make sure you check out our latest NFL Power Rankings and weekly picks from our expert crew.
We'd like to extend a warm thank you to all of our dedicated readers. September of 2011 was far and away the best month of traffic that this site has ever seen and we couldn't have done it without you.
You can follow us on Twitter @allsportsnet, or become a fan on Facebook which will keep you up to date on all the latest happenings from our offices.