Over the past few weeks, unsigned free agent quarterback Colin Kaepernick has been at the forefront of a spirited debate in the sports world. I believe that Kaepernick remains unsigned because of the fact that he kneeled during the national anthem last season, because his numbers in 2016 show that he can still be an effective NFL quarterback.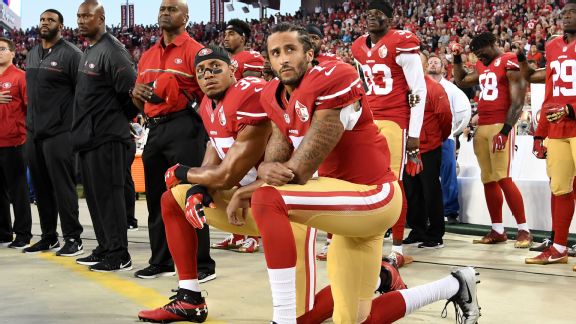 Regardless of what people think about Kaepernick's political leanings, he had a pretty good 2016 season. He threw for over 2,000 yards and 16 touchdowns to just four interceptions, but these numbers were only inflated by a pass-heavy offense.
That's an impressive ratio, and the only quarterback who started over half of their team's games to throw less interceptions last season was Tom Brady.
He did fumble the ball nine times, and most general manager's would tell you that a quarterback's top responsibility is to protect the football, but his 90.7 passer rating is the third-highest of his career. His 55.5 QBR was the second-worst of his career, but it was still better than that of Cam Newton, Eli Manning, Ryan Tannehill and Carson Wentz.
I'm not saying that Kaepernick will ever return to his 2013 and 2014 forms, but it's nonsense to think that he isn't one of the best 32 quarterbacks in the NFL. The Jets could have used him, but signed Josh McCown, the Bears opted to overpay Mike Glennon and Cleveland has likely chosen to get their next quarterback in the draft.
If teams were smart, they would take a chance on Kaepernick. At this point in his career, general manager's could get him for a steal, and if he can be nearly as productive as his 2013 and 2014 seasons and given decent talent that San Fransisco lacked last season, then there's no reason why Colin Kaepernick can't be a starting quarterback in the NFL again.